Decorating your home is an aesthetic value which speaks about your personality, brings your home to life, while also helping your self-esteem, and certainly improving the quality of life.
Furniture Village experiences would show you a wide range of furniture sets, tables, different types of chairs suitable for home and office, which lasts for a long time. Other home designs are also available to assist in making every layout of your home comfortable and welcoming.
Every interior designer agrees that it is possible to change the mood of a room with the right blend of colours, type of furniture and the position of each piece of furniture. Redecorating your home will enhance better sleep, fun atmosphere and increase your productivity. We have provided a list of the trending decorating styles we've seen in 2020 thus far below.
Colours for Interior Design
Living rooms in 2020 need colours like cobalt blue and a mix of gray and white colours on opposite sides of the wall. If you are thinking of orange colour, orange is trending this year, however it is a strong colour which can be complemented with white walls. You can also choose red and gray sofas and a centre rug with a strong theme. Perhaps you prefer a cool theme living room, you should consider neutral colours such as the different shades of gray, egg colour, cream, light brown for both the walls, the cushion and other decorations such as flower vase and centre rug.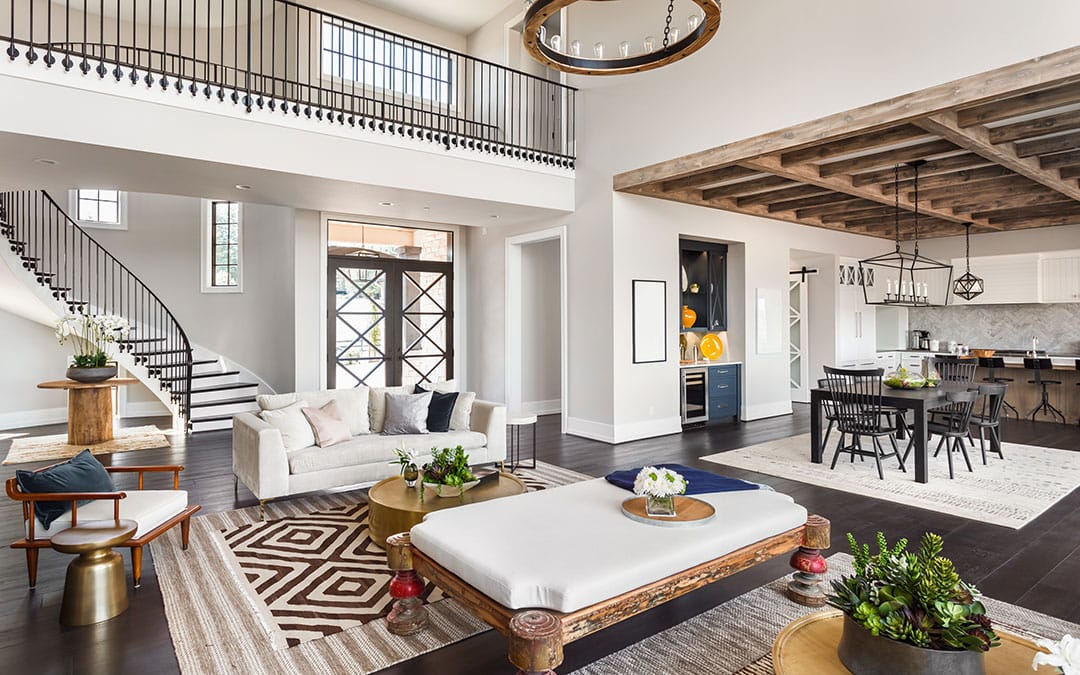 Integrated Hardware and Kitchen Islands
Gone are the days of oversized handle pulls on pantry cupboards and cabinets. In 2020, integrated hardware is very much in vogue. Your kitchen cabinets should be built close to the walls, and this would mean there's more space to move around. Your kitchen needs a better kitchen island, because a lot of folks are no longer using high stools in the kitchen as it's not friendly for children. A new model designed by Jenny Dina Kirschner, the kitchen island is built in such a way that there are extensions which can accommodate short stools, and this makes it a lot safer and easier to use.
The Bedroom Trends
The bedroom is a place for relaxation, hence, the colour theme and furniture in the bedroom is important in setting the right atmosphere. Bedroom trends for 2020, includes canopy beds, beds with upholstered headboards, curved sofas, accessories like round mirrors and flower vases with green plants. Ask your furniture builder to add a built-in bookcase to your bed as this will create more space for you.
Bold Monochromatic
This year, the monochromatic colours are longer dull gray, white or taupe. In 2020, bolder and more pronounced colours such as cobalt blue and hunter green are now used. These colours speak elegance effortlessly.
Floral Wallpapers
Floral Wallpapers are favoured this year above geometric wallpaper designs. They bring fun to your rooms, and you can also use them in your bathroom. They are bold and daring.
Dark Painted Doors
No longer are the white doors trending, dark painted doors are the real deal now. Since they are different from the colour of the interior, these dark doors add warmth to a room.
The major goal of decorating your home is to achieve more space and a lively atmosphere which in turn improves your productivity and quality of life.